Description
Edit
The beautiful beaches of Tropical Punch are the perfect place to unwind after a hard day of rescuing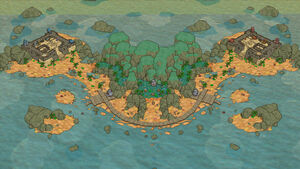 heavy(pants) Princesses. Don't forget to explore the deep offshore caves as there are many wonders to discover. Some say the island won't let them leave.
The strategy to win offline Tropical punch matches is to use the caves. The caves will take take you to islands near the enemies respective base. You can also go to the islands themself and go to the caves right next to the enemy base, use a worker to build jumping platforms, rescue the princess (or kidnap theirs on snatch n' grab), and use the save cave system.
Online you will need to physically raid the castle as the opponents will destroy the jumping platforms.
For online matches the shortcuts are your best friend. While most your teamates will be fighting in the middle boardwalk, you can take the shortcut just outside your base to ambush them from the side. Or if your teamates are attacking the enemy castle doors, become the worker (Note: the advanced worker is highly recommended) and take the shortcut southeast of your base. You come out on the south wall of the enemy castle. From there build a springboard to gain quick access to the castle and help your teamates from there. (Note: The springboards are normally a one time use seeing as the enemy normally makes destroying them a top priority)
If the enemy is pushing you back to your castle walls, a good way to scatter them is by suicide bombing in the middle of the group of enemies or use the Pirate's special attack. It gives your team an advantage to retrieve lost battling land.
Hills of Punch
Edit
Tropical Punch's background hills are actually accessible.
As a chicken use your teams catapult and keep flying north (or up) on the map until you land on the hills. These are not exactly important as no one has been able to get the princess up here.