The Sugar Cove Is A Stage In Fat Princess. Instead Of Castles, The Bases Are Shipwrecks
Description
Edit
This stunning south west coastline is home to the concrete crab, which is said to remain motionless for months at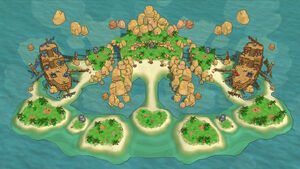 a time before disappearing in the blink of an eye. The region is also filled with many shipwrecks from the adventures of the black Eyed Pirates.
Since the first priority of this map for most online players and AIs is to build the bridge to the middle, one can "rush" for the prisoner or princess through the islands south of the mainland using a villager and possibly a friend.
If the enemy has the middle outpost well-guarded, ore may be a tough resource to get a hold of. If you are really in need of upgrades, you can steal the ore from the south through the passage in the middle once the water recedes.