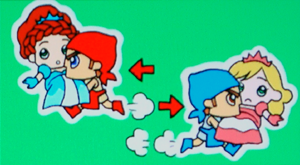 Snatch 'n Grab is a game mode in Fat Princess. The game starts out with both teams having their princess in her throne room. When a team captures the enemy's princess and takes her to their dungeon, she re-spawns in her throne room and the team scores a point. The first team to reach 3 points wins.
Description
Edit
Kidnap the enemy Princess and place her in your Castle Dungeon. Complete this task 3 times and you kingdom shall be victorious.
Somehow, You Need To Use A Catapult To Get To The Prisoner.