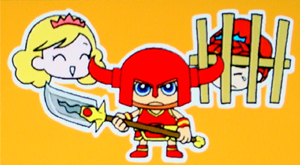 Rescue the Princess is a game mode in Fat Princess. The two teams start out with the opposing team's princess in their dungeon. Once a team has both princesses in the respective places in their castle, a timer begins counting down. The team with both princesses when the timer runs out wins.
Description
Edit
Liberate your Princess from the enemy dungeon and place her back on the throne where she belongs. In this mode, a player must make an effort to get the princess back and, using teamwork, this can be done in a simple matter, this plays like capture the flag. Make sure the enemy does not kidnap her or rescue their own princess for 30 seconds and your team will be victorious (when the counter is all white to win).
Catapult With A Friend And A Shortcut
Edit
Build a Catapult, become a Warrior, grab a friend, catapult into the enemy castle, grab the Princess, destroy the portal barrier (if there is one, otherwise, take any other shortcuts that are on the map), head to the nearest set of teammates, go back to castle, victory.
AND WHEN RESCUE, KILL ALL ENEMIES.