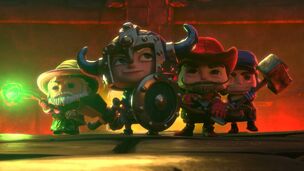 Fat Princess Adventures is a cooperative sequel to Fat Princess for the PlayStation 4. It was released on the PlayStation Store in North America and Europe on December 5th, 2015.
After the events of the first game's Legend of the Fat Princess story mode, the Red Kingdom and Blue Kingdom have now united as Great Bitten, which is now under attack by Gobblings, led by the Bitter Queen, with the intent of destroying everything that's sweet, including the Cake, Princess Plump, and Princess Muffintop. The Red King and Blue King declare war against the Gobblings, sending a party of guards on a quest to save the princesses, sweetness, and eventually, the world.
Unlike its predecessor, which was a 32 player, class-based competitive multiplayer game, Fat Princess Adventures is a 4-player, co-op hack-and-slash dungeon crawler.
The Warrior, Ranger, Worker and Mage classes all make their returns, with their primary and secondary abilities. New class abilities include the Warrior's ability to take more damage than the other classes or the Worker's ability to disarm bombs that are littered throughout the map. There are also weapon upgrades such as flame swords and multi-arrow bows. At some points of the game, the princesses can serve as non-playable guides to the players, assisting with magic attacks, healing spells, or even turning enemies into cake.
In addition, characters can drink "Awesome Sauce" in order to greatly increase their damage output. Magic Potions can also once again be thrown to turn both enemies and allies into chickens.
Screenshots
Edit